O štai ir mūsų istorija.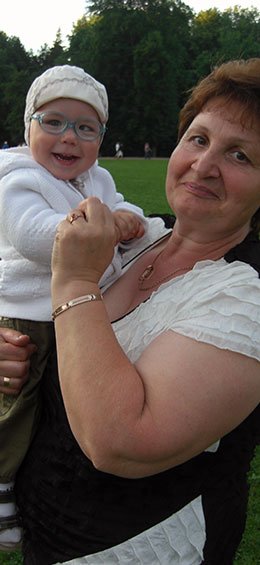 Gyvename mes pilna šeima, Vilniuje. 2011 metų, rugpjūčio 19 dieną mūsų šeimoje gimė laukiamas vaikelis. Jo svoris buvo 1470 g, 45 cm. Sūnų pavadinome Martinu.
Mes jo taip laukėme, kad sūnus gimė anksčiau laiko, pasaulį pamatė jau 29 nėštumo savaitę. Toks ankstyvas sūnaus atėjimas į šį pasaulį neatsiejo ir be šalutinių pasėkmių: berniukas buvo silpnas, neišsivystę plaučiukai.
Ilgai gulėjo inkubatoriuje, maitinimas per zondą beveik visą mėnesį, nes per anksti gymusiems vaikams neišsivystę čiulpimo refleksai. O kiek buvo džiaugsmo, kai sūnelis pradėjo valgyti iš buteliuko…
Didžiausias kirtis, kuris paliko gilų pėdsaką Martinui, bandančiam kabintis į gyvenimą – dvi sunkios infekcijos. Tai – grybelinis sepsis ir pūlingas meningitas, kurio pasekoje neišgydomai pažeistos galvos smegenys. Taip pat naujagymių gelta. Krūva antibiotikų ir vaistų. Taip neišnešiotų naujagimių skyriuje mes gulėjome 2 mėnesius.
Grįžę namo, galvojome baisiausia – praeityje…, bet išėjo arvirkščiai.
Ru
3 mėnesių buvo operuota kairė akytė, neišnešiotukų retinopatija. Gryžę namo gyvenome kaip ir visi, džiaugėmės sūneliu.
Pirmą kartą apsilankius Vaikų Raidos Centro (VRC) kabinete diagnozuotas vaikų cerebrinis paralyžius (VCP)…. ir kaip pasakė daktarai, taip atsitiko dėl gimdymo traumos. Bet mūsų gydytojai tai kaip visada nutylėjo. . .
Dvigubai sunku, kai tave apgauna svajonės… Kai galvoji: " Jau viskas, išsikapstėm, dabar tai viskas turi būti gerai, juk mūsų gyvenime jau buvo toks sunkus išbandymas…" Labai sunku buvo atsikelti ir kariauti su lyga.
Šiandien mums jau 3 metukai. Martin pats neatsisėda, nesėdi, neropoja, nevaikšto, nekalba. 1 metų ir 5 mėnesių sūnelis išmoko persiversti nuo pilvo ant nugaros ir atgal. Intelektas, ačiū Dievui, išsaugotas. Kol kas Martin nekalba, bet viską supranta, labai nori bendrauti, myli vaikus!
Vienintelis būdas pastatyti sūnų ant kojų – tai ištisa reabilitacija. Mes naudojame visas valstybės siūlomus reabilitacijos būdus. Bet tokiam vaikui sanatorija 2 kartus per metus ir VRC 2 kartus per metus labai mažai.
Be šito, privačiai vežiojame Martiną pas kineziterapeutą, osteopatą, į baseiną. Vasarą norim dar pabandyti ipoterapiją (užsiemimai ant arklio). Čia labai didelis krūvis tokio amžiaus vaikui. Tą, ką iškenčia tas mažas žmogeliukas, ne kiekvienas vyresnis žmogus išlaikys.
Gydėmės jau ir užsienyje, buvom Ukrainoje, Eupatorijoje. Prabuvome visą mėnesį, kur su mumis užsiiminėjo fizioterapijos trenerė, praėjom magneto-lazerinę terapiją, darėm logopedinį masažą. Martin sustiprėjo, yra teigiama dinamika. O svarbiausia, mums davė viltį… , jeigu užsiiminėti, tai 6-7 metų vaikas galės vaikščioti.
2014 metų vasario mėnesį mes gydėmės Euromed reabilitaciniame centre Lenkijoje, iš kur mes atvežėm gerus rezultatus. 2014 metų birželio mėnesį praėjome pakartotiną kursą. Po šios reabilitacijos Martin pradėjo stotis ant keturių ir trumpai laikyti tokią padėtį.
Labai norisi aplankyti centrą vėl.
Liudniausia, kad šeimos lėšų trūksta, medikamentai ir procedūros brangios.
Vienam reabilitacijos kursui Eupatorijoje reikia apie 13000 litų (3500 eurų). Euromed reabilitaciniam centre (4 savaitės), – 7200 eurų. Ateityje Martinui yra siūloma daryti operaciją USA Sent Luise – selektivinė dorzalinė rizotomija. Jos kaina apie 42000 dolerių. Be to, Martinui pastoviai reikalingos kineziterapeuto, logopedo, socialinio darbuotojo pagalbos.
Todėl labai prašome išgirsti mūsų pagalbos šauksmą. Iš anksto dėkojame visiems, kurie palaikys mus tiek geru žodžiu, tiek mums taip reikalingais pinigėliais.
Mūsų didžiausia svajonė, kada nors pamatyti kaip mūsų vaikas eina be kitų pagalbos…
Tam, kad padėti savo vaikui, įsteigėme jo vardu Labdaros ir paramos fondą, kad žmonės negalvotų, kad mes sukčiaujame.
Jūsų skirtos lėšos paramos ir labdaros fondui "Labdaros ir paramos fondas Martinui Mikalajūnui paremti" bus naudojamos tik Martino sveikatos būklės ir gyvenimo komforto gerinimui, kelionėms į sanatorijas, reabilitacinių priemonių įsigyjimui.
Ačiū už supratimą ir paramą.
Martino tėveliai.