Our story.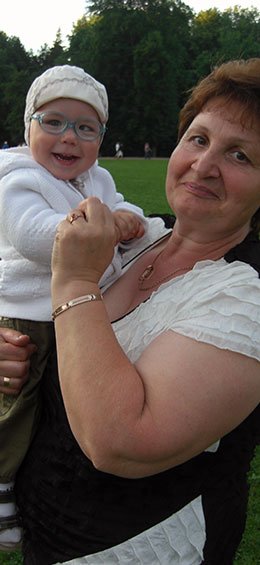 We live in Vilnius, Lithuania. On 19 August 2011 we had long awaited newborn babyboy – Martin. Martin was 3.24 pounds (1,470g) and 17.72 inches (45cm). We have been so anxiously waiting and expecting him, that our weak son was born 29 weeks premature and had several side effects that required NICU stay including not fully developed lungs.
Martin needed a machine (ventilator) to breathe for him and had some serious issues with eating habits. He was using tube feeding for a month. We were really happy when he had started to eat from the bottle:
Hardest footprint and variety of after effects, were left by two infections, herpes simplex and meningitis. That caused complications such as brain damage. We have had tons of drugs and antibiotics and after two months in the NICU our baby boy came home. We really hoped problems would improve over time, but we were wrong…
Retinopathy of prematurely-born babies is one of the major reasons for child blindness. Martin had a surgery on his left eye and was released after three months.
After our first visit to Child Development Center we had more bad news: Martin was diagnosed with Cerebral Palsy due to birth injury. However, doctors were not honest with us:
It is twice as hard when your dreams and expectations collapse. We believed that everything was behind, that we did it and survived, that we passed through the hardest test of our lives. It was extremely hard to get up once again and fight the disease.
Today Martin is 3 years old. However, he can't sit up, crawl, walk or talk. At age of 1.5 years old our son learned how to roll from his back to his stomach and backwards. Intellectually Martin is okay, even though he does not talk; however, he understands almost everything, very social and loves kids.
The only way to make moving forward is consistent rehabilitation. We have been using all types of rehabilitation options offered by the Government; nevertheless, sanatorium and rehabilitation clinic at Child Development Center two times per year each is not an adequate treatment.
Martin undergoes private kinesiotherapy, osteopathic, speech therapy, social workers and pool therapies. Summertime he will try hyppotherapy (a form of physical, occupational and speech therapy in which a therapist uses the characteristic movements of a horse to provide carefully graded motor and sensory input.)
For our son, we are doing everything possible. Martin drove for rehabilitation in Ukraine. In February 2014 my son and I were on the rehabilitation Euromed Rehabilitation Center in Poland, where they brought good results. In June 2014 went on a refresher course. Martin began to climb on all fours. It would be desirable, of course, to visit the center again.
It's a shame that the family of funds is not enough, medications and procedures are expensive.
Rehabilitation in Ukraine (4 weeks) – 3,500 euros. In the Euromed Rehabilitation Center (4 weeks ) – 7200 euro. In the future, we propose to do the surgery USA Sent Luisa – selective dorsal rhizotomy. Its price – 42000 $.
This is a substantial effort by a little child and not even an adult would have handled it better.
Your donated funds to our sun Martin. Money will be used to support Martin's health and wellbeing, durable medical equipment purchases, medical trips and rehabilitation.
Thank you for your help.